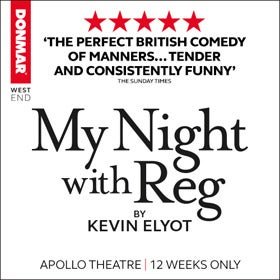 Call :phone to book directly from the theatre or Subscribe
My Night With Reg
This classic British comedy, as dark as it is funny, comes from the pen of Kevin Eylot. It started life in 1994 at the Royal Court Theatre, directed by Roger Michell and attracting rave reviews, later transferring to the West End. The action takes place against the backdrop of the London gay community, set in the summer of 1985 when the AIDS scare was at its peak.
The play examines the lives of a close circle of gay men as their lives unfold. Reg himself doesn't actually appear in the play, but the entire plot revolves around him, his promiscuity and the tragedies sparked by it. The scene is Guy's London flat, where a bunch of friends gather to party the night away. They're there to celebrate life after a wake for one of their group, who has just died of AIDS.
As the evening unfolds it becomes clear that everyone present has had unprotected sex with the deceased at one point or another. The results are both horribly funny and deliciously bittersweet, an intimate look at the fragility of friendship, the nature of happiness and the purpose of life itself. A winner of Olivier and Evening Standard Awards, it's a truly brilliant piece of modern British theatre.